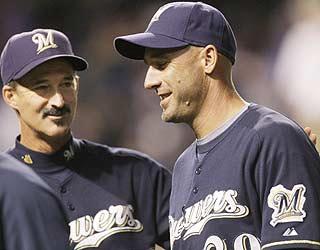 Among the half dozen or so candidates for the Cubs job, the two best names according to CSN's Patrick Mooney are Dale Sveum and Mike Maddux. Why? Well he equates the job search to the hiring of Terry Francona in Boston and Joe Maddon in Tampa Bay. Both guys were far from upper echelon of managers at the time, but were seen as rising commodities in the managerial world. And both worked. Quite well, too.
Sure, Francona had prior experience in Philadelphia, but Mooney still makes good points that the coach turned manager phenomenon tends to succeed if it's done correctly. [See Ron Roenicke].
Here's a bit of what Mooney had to say about Sveum:
After lasting 12 seasons in the big leagues, Sveum managed Pittsburgh's Double-A affiliate from 2001-03. He then became Francona's third-base coach and felt the heat from Boston fans and media for his aggressive decisions to wave in runners.
Sveum understands big-city pressures and has been described as someone who's embraced statistical analysis. It says something about his value and personality that he worked for three different managers in Milwaukee (as third-base, bench and hitting coach).
Sveum was the interim manager when the Brewers made a playoff run in 2008. He will turn 48 later this month, an age where he can grow into the job, an idea Epstein has suggested for the next leader.
As much as the Cubs have tried to copy the Red Sox model, chairman Tom Ricketts also studied the Brewers before hiring Epstein, the way they've been able to produce homegrown impact players and have success in a small market.
CSN Chicago: Patrick Mooney
Wait, what? Ricketts is thinking of modeling after the Brewers? [See Ron Roenicke]. Now, that brings us to former Brewers coach Mike Maddux, who like my friend Ron Roenicke, has had a history as a highly respected pitching coach over the last several seasons.
There's a growing acceptance of pitching coaches becoming managers. Hoyer developed a good relationship with Bud Black in San Diego. John Farrell – Boston's former pitching coach – got good reviews during his first season in Toronto and could have been Francona's logical replacement if he weren't under contract.
Epstein views keeping pitchers healthy – and having them perform at a higher level – as the next frontier. Those questions have vexed the entire industry. The Cubs are staring at a huge void in their rotation, and pitching figures to be their biggest need this winter.
In Texas, Maddux and Nolan Ryan pushed their pitching staff. They weren't afraid to increase workloads and change the culture in a ballpark that was known for offensive fireworks.
Okay, let's not associate Hoyer with the Bud Black hire, but Mooney makes great points despite not mentioning the successful Roenicke. So Maddux would definitely fit into that mold and as Clapp has mentioned on Twitter in the past, could possibly open the door for brother Greg to join the staff.
My only beef with Mike Maddux? The "increased workloads" mention. That just conjures up raw memories of Dusty Baker and Mike Quade. Then again, I'll trust Theo over Hendry or MacFail or Dallas Green or Bill Veeck.
Get The Latest Blogfines Updates By Following Us On
Twitter
.